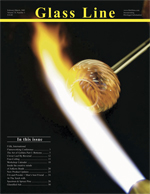 Fifth, International Flameworking Conference - March 18-20, at Salem Community College in Carneys Point, N.J....
The Art of Goblets Part I: Bottoms - with Doug Remschneider - by Julie A. Reynolds - What do you do with a goblet? People collect them, drink from them, toast with them; however, Doug Remschneider creates them. One of the most awe inspiring things to see is a lamp work glass artist spinning out a goblet top or bottom. Remschneider makes goblets with such grace and ease that you believe that you too could do this effortlessly. Remschneider has been making goblets for almost ten years...
Part 4 Clover Leaf By Reversal - by Michael Angelo Menconi - I really hope you have the last issue of Glass Line, if you don't I suggest that you pick one up, and if you are still lost pick up the last three. As I said in the last issue this will start out with a bow tie reverse ball, and it is vital that the bow tie runs left to right on both sides. - Continued from Volume 18, #4...
Free-Coiling - by DeborahCarlson - Once I was shown how to free-coil, I found I could make a ball of the color I wanted to test, blow it out, label it, and keep it to remind me what that particular color could do. This has been the most helpful and versatile technique I have learned for the torch...
Inside the creative minds of AsKoru Beads - by Rud Nicholson - There is a little tutorial how to make such beads. It's nothing mysterious at all and the techniques being used are basic bead making actually. But it's just the combination of simple techniques, shapes, and colors leading to a stunning often surprising result. So why not publish it and maybe trigger even new ideas in somebody else? ...
Frit and Powder = Man's best Friend - by Mark Lammi - In this article I will explore the amazing possibilities of borosilicate frits and powders as well as some exciting applications and techniques that make working with crushed glass, a real treat for any lampworker. With the rapid explosion of the borosilicate color palette in the last few years, new colors and sizes of frit and powder have been made available to glass artists and there seems to be no sign of let up...
At The Torch with Spectrum & Spruce Pine - by Helen R Hosmer - Nearly a decade ago I started experimenting with Spectrum sheet glass in the flame. This past June at the G.A.S. conference I found that Spectrum and Uroboros had combined forces to introduce System 96 glass rod in 24 colors for flamework. The exciting thing about using System 96 glass in the flame is that it is compatible with Spruce Pine 87 which many furnace workers know well. Beyond this is color bar produced from Australia to New Mexico to Germany...
Glassified Ads - February/March, 2005 - Vol. 18 No. 5.